Keypods™ & Keydock™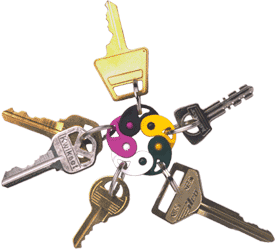 The Ultimate Solution for Organizing, Carrying and Storing Your Keys! Simply organize your keys into sets, and put each set on a Keydock. Snap your Keypods together into a cluster of 2, 3, 4, or 5, and carry only the keys you need. You can also use them to attach things like pocket knives and ID badges, or ski passes to your keys, pack, or ski coat. Keypods are available in sets of 5, in assorted colors. Molded in extremely durable acetal resin, they're virtually unbreakable.
Keydock is molded out of black nylon, and comes with 2 mounting screws. You can mount Keydock on a vertical surface, a horizontal surface, or simply stash your Keydock in a drawer. The versatility of Keypods is limited only by your imagination!
Check out our original Yin & Yang Keychains too!
Scroll down for color selections.
---
Price: $5.95
On Sale! $3.95

Quantity



Price: $7.95
On Sale! $5.95

Quantity



Price: $5.95
On Sale! $3.95

Quantity



Price: $7.95
On Sale! $5.95

Quantity



Price: $5.95
On Sale! $3.95

Quantity



Price: $7.95
On Sale! $5.95

Quantity



Price: $5.95
On Sale! $3.95

Quantity



Price: $7.95
On Sale! $5.95

Quantity



Price: $5.95
On Sale! $3.95

Quantity



Price: $7.95
On Sale! $5.95

Quantity



Price: $5.95
On Sale! $3.95

Quantity



Price: $7.95
On Sale! $5.95

Quantity